Cheap Lasik?
No thank you!
Recently, especially in the UAE, the price of LASIK has dropped dramatically everywhere due to an oversupply. Too many clinics have opened after making big investments and now they are in serious difficulties.

Beware of low prices! Femtosecond LASIK is an expensive procedure due to a combination of factors: big capital investment, high maintenance costs, high costs of consumables dictated by the suppliers.

In many centers procedures are advertised as "Ultra Lasik" but actually they get perfomed with the microkeratome BLADE! The blade carries a significantly higher risk of irreversible flaps complications or developing keratoconus even years afterwards and it has been surpassed by the femtosecond laser.

The other issue is excimer laser platforms not being serviced regularly to save cost. This can lead to a rough LASIK cut with possibly a poor result due to permanent halos and glare.

Additionally, in order to cut costs many centers use the same blade for multiple patients, with all the risks of infections and poor cut from a blunt blade that follow.

An other issue is performing LASIK when there is a poor indication (e.g. in thin irregular corneas) or even a contraindication (such as in keratoconus), or performing the procedure in young age before the vision has fully stabilized (the eyeball can still grow till age 22). Not waiting for a sufficent time between contact lens removal and final refraction can also lead to poor results since the refraction measured is not precise.

Beware also of any ophthalmologist who doesn't discuss all the risks and benefts of the procedure with you and tells you that complications re impossible! This means that they are either lying to you or that they haven't done a sufficient number of procedures to encounter a complication yet, which is not reassuring because they will be unable to handle it when it happens.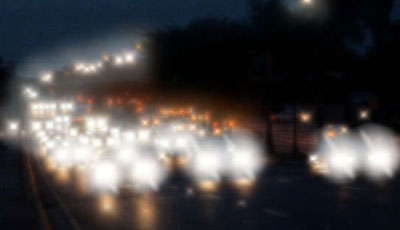 Complication from old-style flap created wth the Microkeratome
(e.g. with the blade rather than with the femtosecond laser):
major night halos.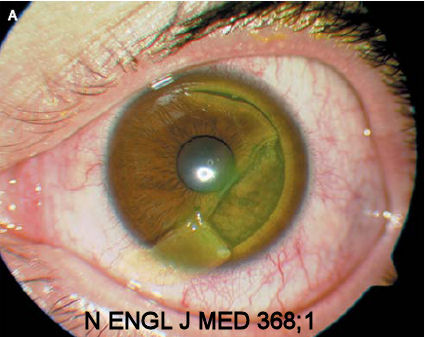 Microkeratome flap complication: flap tear.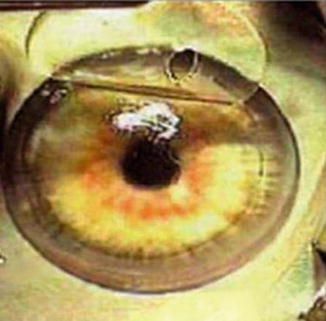 Microkeratome flap complication: flap buttonhole.

Microkeratome flap complication: epithelial ingrowths
growing behind a poorly sealed flap.