Clear Lens Exchange
There is no need to wait till you are old and develop a dense cataract before getting rid or your glasses.

Nowadays the natural crystalline lenses of the eyes can be replaced while it is still clear, and replaced with Multifocal (Trifocal) artificial lenses which will corrett both the distance, the near and the intermediate vision and allow you to see without glasses for 90-100% of the tasks.

Technically the procedure is very similar to a cataract operation, but it is done in the absence of cataracts.

Not all patients are good candidates and therefore experience in patient selection, high accuracy in the lens calculations* and flawless surgical technique are essential requisites to achieve consistently good results.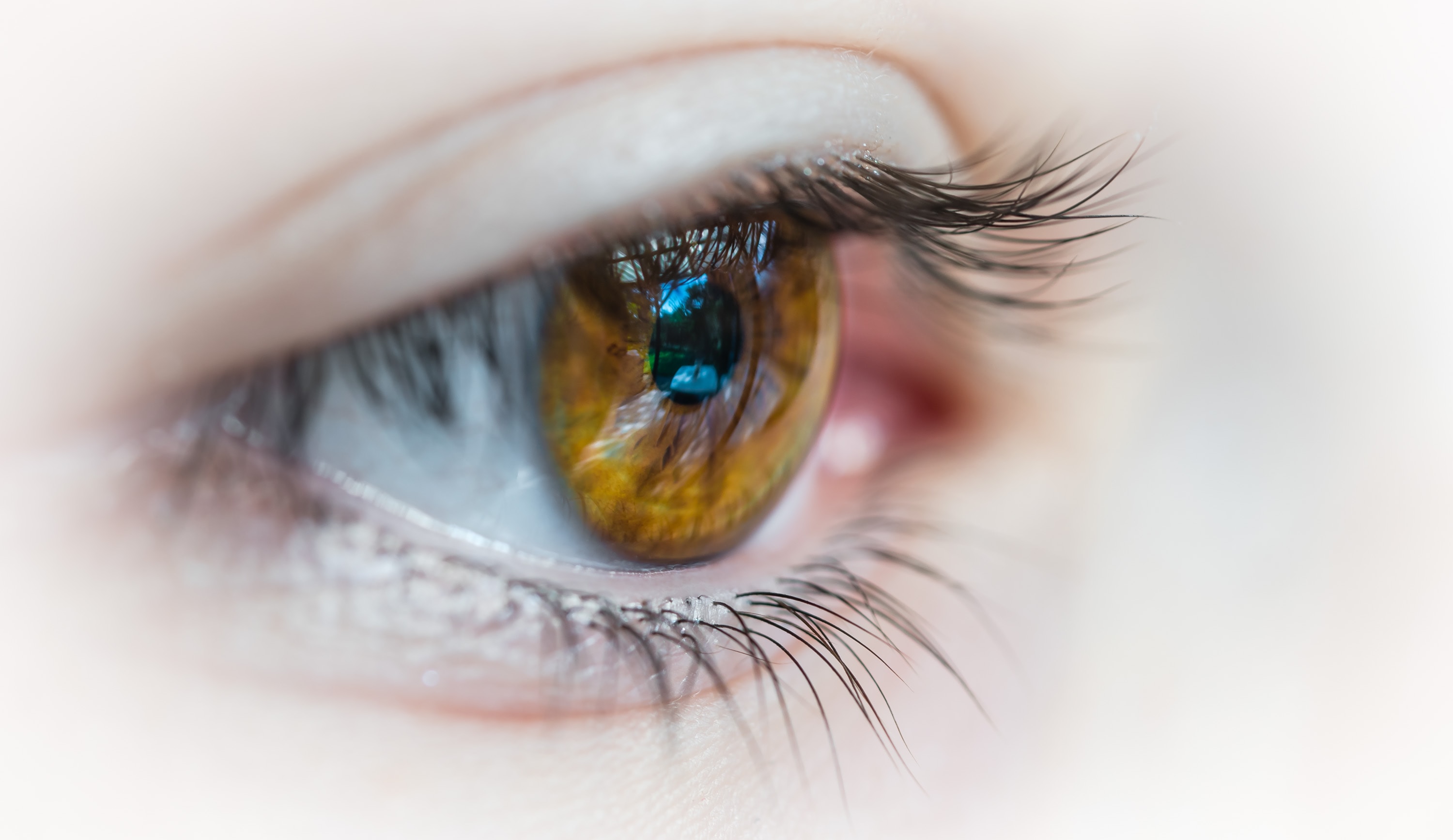 The only Multifocal lenses that provide a comprehensive range of vision (distance, intermediate and near) are the Trifocal IOLs. This is the Physiol FineVision IOL which has an excellent stability in the capsular bag.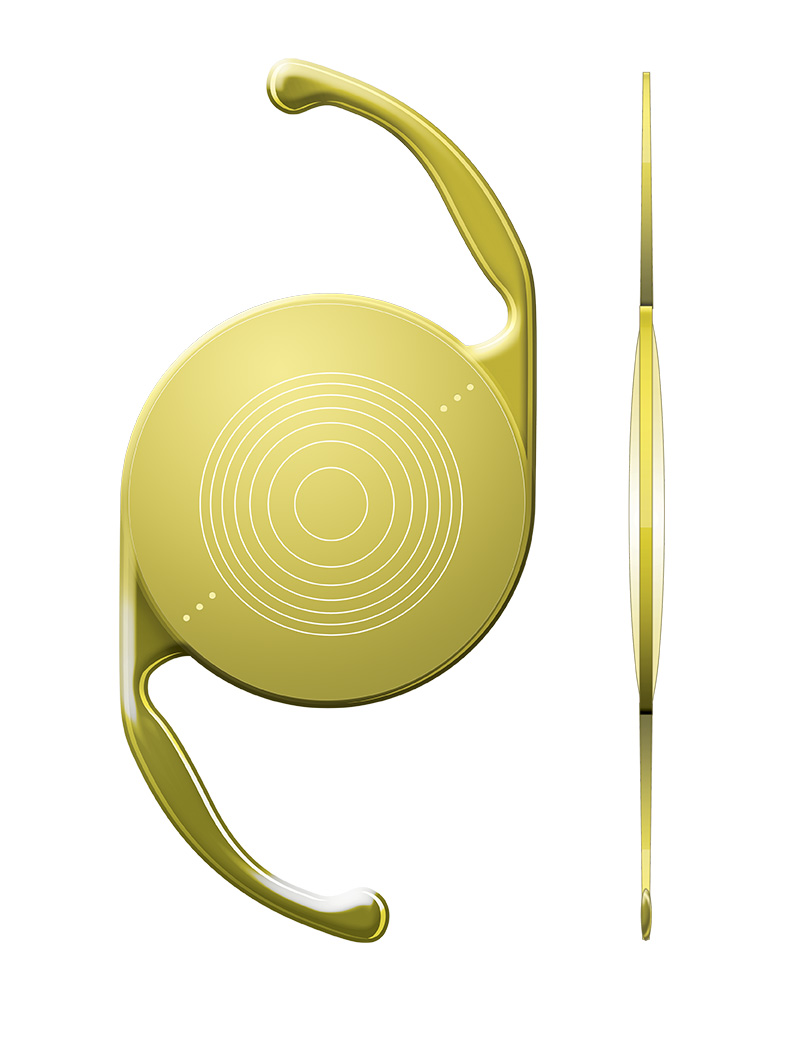 The Alcon Panoptix is also another Trifocal IOL and this is the Toric variant used to correct also the astigmatism. The toric alignment marks are visible and need to be oriented along the direction of the astigmatism in order to correct it properly.

Dr Borasio is an expert in astigmatism vector analysis, planning and correction, having published seveal articles on this topic and having developed himself apps and software for astigmatism management (more details below).
Corneal Transplantation

Dr Borasio has vast experience in corneal transplantation having performed over 400 keratoplasties. All treatment modalities available, including PK (penetrating keratoplasty), DALK (big bubble, deep anterior lamellar keratoplasty), DSAEK, EK (endothelial keratoplasties).

Keratoplasty can now be done with the Femtosecond laser for greater accuracy in the cut and potentially better donor-recipeint match.

Dr Borasio has also patented two new very promising laser cut modalities for femtosecond laser keratoplasty.
Corneal opacities (granulat dystrophy) affecting the vision. In these cases corneal transplantatin may be required.
The donor cornea is held in place by different types of sutures, including continuous suture, double antitorque continuosu sutures (depicted) or interrupted sutures in higher risk cases.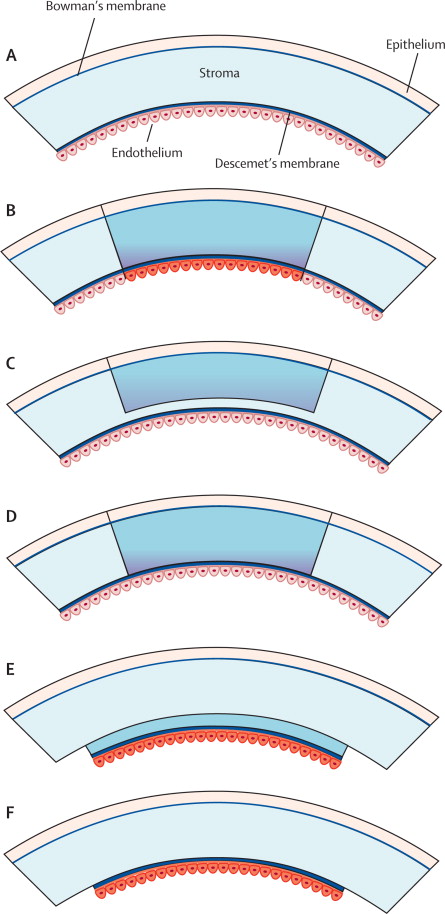 According to the layer of the cornea which is affected, different corneal transplants techniques can be utilized: B) Penetrating keratoplasty (all layers are replaced); C) Deep Anterior Lamellar Keratoplasty, DALK (a significant layer of stoma is left, which can sometimes affect postoperative visual acuity; D) Deep Anterior Lamellar Keratoplasty Big Bubble Technique at Descemet Membrane level (no residual stroma left, best possible vision achievable); E) Endothelial Keratoplasty with residual stroma left (DSAEK-DSEK); F) Pure Endothelial Keratoplasty with only the Descement Membrane left.
Keratoconus Treatment
Due to the high prevalence of this pathology in the region, Dr Borasio has very large experience in treating Keratoconus. All procedures are available, including Collagen Cross Linking (CXL) which is ideal in the early stages; Femtosecond Laser Intracorneal Rings implantation (Ferrara, Keraring, INTACS SK) which is more suited to moderately advanced stages; DALK and PK corneal transplantation which is reserved to very advanced stages.

Some eyes are suitable for simultaneous Laser correction (by means of Corneal Topography-Based Wavefront LASEK) + Collagen Cross Linking.

Toric ICL sometimes can be implabted in stable cases. Contact Lenses (Hybrid, Rigid Gas Permeable, Scleral) are also avaialble as a non-surgical option.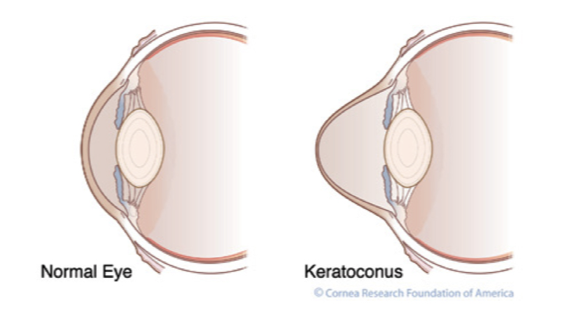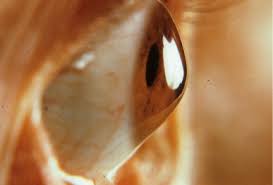 In keratoconus the cornea is weakened and it progressively bulges forward making the vision distorted.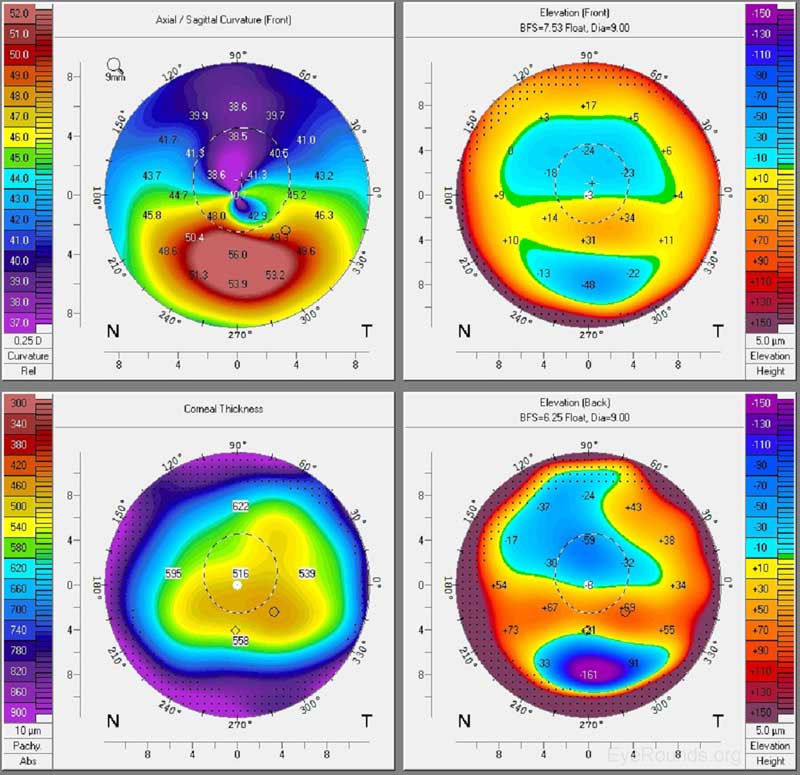 Preoperative assessment with the latest Corneal Topography devices such as the Oculus Pentacam HR is essential for diagnostic purposes and to devise the correct surgical plan, especially for intracornal rings.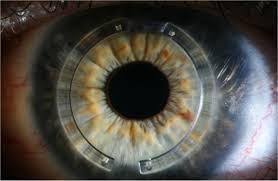 An eye with keratoconus treated with Femosecond laser INTACS intracorneal rings which flatten the cone and reduce the astigmatism.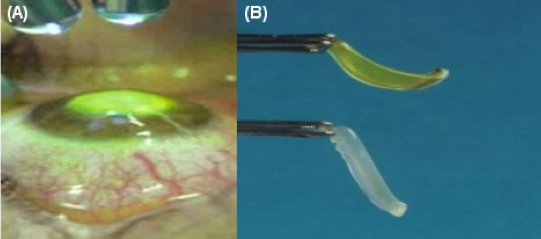 In early keratoconus cases where the vision is still good, simple Collagen Cross Linking (CXL - C3R) is the ideal therapeutical choice. The treatment consists in soaking the cornea in Riboflavin (Vitamin B2) and then shining a safe UV light source on the cornea to make it stiffer. Differently from the rings, the CXL treatment does not reduce the astigmatism.

In some cases which progress despite one procedure, intracorneal rings and collagen cross linking can be done simultaneously or in sequence for added stability.

Cross linking can also be combined with topography-based surface ablations (LASEK) to reduce the cone.